Ever wonder how to customize your Adobe Premiere Pro CC work space so it more closely resembles Avid Media Composer or Final Cut X? Tired of the clutter and want to eliminate panes that you never use in Premiere? Do you often start a new project and re-arrange all of your windows for 5 minutes before you even get started? Look no further. Today we're going to dive into customizing your workspace and saving a layout (or layouts) that you'll come back to time and time again.
Whether you're editing on a laptop or on a proper dual-monitor setup, Adobe Premiere can be customized just for you and the way you work.
.: STEP ONE – REDUCE CLUTTER:.
Identify panes in the default editing view that you don't use and eliminate them:
In the above example I've identified a panel that I don't particular use most of the time, the Metadata pane. By clicking the three-line menu button you reveal a drop down that will allow you to close the panel. Rinse and repeat this for all the panels you may not use as often.
.: STEP TWO – MOVE THINGS AROUND:.
Familiarize yourself with the way Adobe Premiere (and all Adobe CC products) can be laid out by moving panes around the layout. To start, click and hold your mouse on a tab and drag it to another part of the layout. You will get a visual representation of where that pane will end up. Left most edge will put it to the left of a given area, top most will put it on top and so on. If you drop it in the center of another pane, it will create a tab inside of that space for the tool.
.: STEP THREE – UNDOCK PANES:.
If you're rocking two screen you can create a second monitor layout in a window of it's own. Typically, an editor will want their bins, browser, effects, history and mixer on the left screen while the right screen is reserved for the source and record monitors, timeline and tool bar. But- you can customize the layout to your liking!  To start, click the menu button on a given pane and select "Undock Pane". This will 'pop-out' the selected pane into it's own window entirely: If you're the typical editor noted above, drag this new window over to your second monitor. Next, undock the Source Monitor, Timeline and Toolbar and move them over to the second monitor as well. Then, as you did in step two, grab the tabs of each pane and start combining them into one window and resize it to fit your second monitor: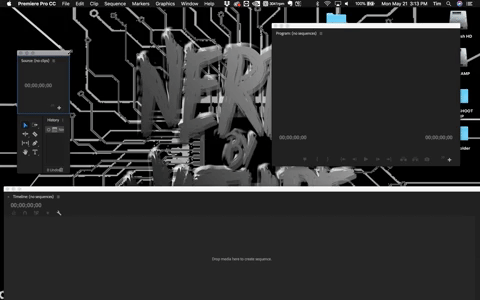 .: STEP FOUR – SAVING YOUR WORKSPACE:.
Once you've set your workspace, it's time to save it so you never have to do that again. Whew! Click the Window menu at the top of your screen, mouse over on Workspaces and click save as a Save as a New Workspace…  
Give it a name you'll remember and hit okay!
Now, repeat the above steps to setup different layouts for Color Correction, Effects Work or even browsing/assembly. The possibilities are endless.
.: BONUS TIP :.
To quickly access your different layouts, make sure you show the Workspaces pane at the top of your screen. This allows you to effortlessly tab between layouts for each part of your workflow. If you're like me and find yourself wanting to quickly color correct a shot during an edit, this is a life saver:
How do you utilize the workspaces functionality in Adobe Premiere Pro CC?
Leave a comment below.